KNIT MAGAZINE
German folk costume similar to Japanese yukata. What is a cute "dirndl"?

Post date:

10/04/2019 07:00
(Update: 06/22/2022 21:31)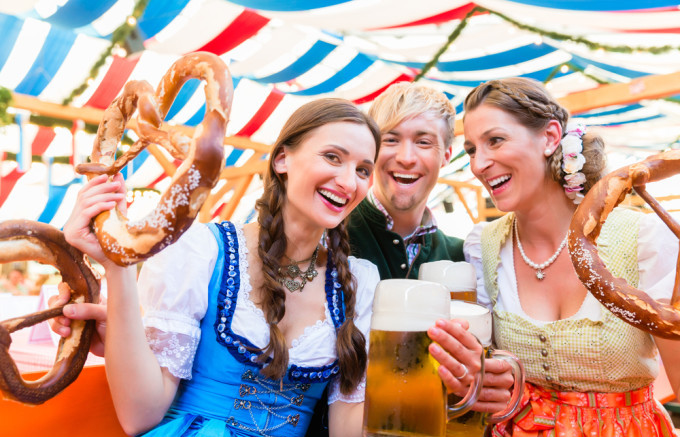 We translate with Google Translate. You can contact us if you have any question.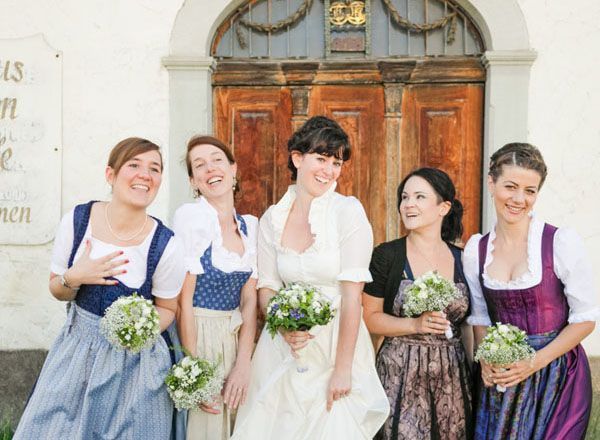 Hello. This is Koyanagi.
It was a hot summer this year, but in October it's getting more and more like autumn. I miss the fact that the beer on a hot day was very delicious. During this period, a festival called Oktoberfest is held in Germany from late September to early October every year, and it seems that a huge amount of beer will be consumed. I want to do it.
I borrowed the image from here.
What is the meaning and origin of Oktoberfest?
Oktoberfest is the world's largest beer festival held in Munich, Germany, from late September to early October every year in Munich, Bavaria, Germany. In commemoration of the marriage of King Ludwig I of the Kingdom of Bavaria and Queen Therese, a horse race was held for 6 days from October 12, 1810, and beer was served to the people. The festival will continue to be held for a longer period of time, so it is still called the Oktoberfest even today, when the start date was September in consideration of the climate, and the last weekend of the festival must be in October. It seems that it is.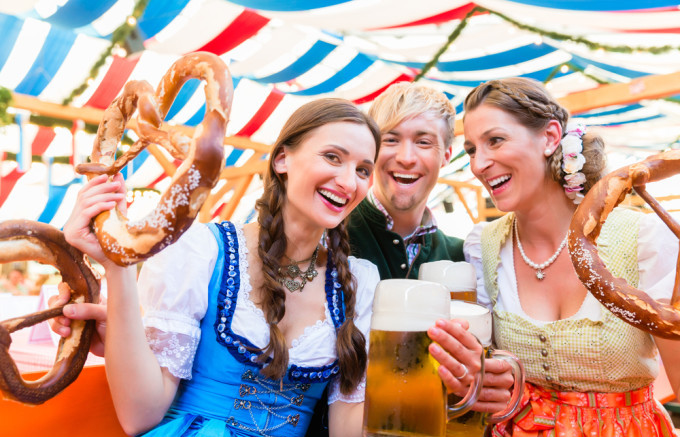 I borrowed the image from here.
What is Diandl?
Costumes worn by women who carry beer at the Oktoberfest venue. This is the folk costume of this area. Basically, it consists of four parts, a bodice called a bodice, a blouse, a mimore length skirt, and an apron. Nowadays, it is not often worn as everyday clothes, but it is loved by a wide range of generations regardless of adults or children as clothes to be worn at traditional festivals such as May Festival and Oktoberfest.
Origin of Dirndl
Dirndl's name comes from Dirn, the word girl in southern Germany. Originally it was work clothes for women in the mountainous regions in the 19th century. Dirndl, which is easier to wear than the gorgeous dresses of the time, has become the preferred summer dress for summer resorts among urban women who have visited summer resorts surrounded by mountains and lakes. I did. Dirndl was worn as an advertising tower for female members of the Nazi Party during World War II, so it was rarely worn after World War II. It became popular again in the 1990s, and today many people wear dirndl on a daily basis.
What kind of clothes is "dirndl"?
The bodice and blouse are designed to open the chest wide and emphasize the décolletage, creating a sexy atmosphere that makes you feel femininity. The bodice has no sleeves and opens forward, and is fastened with strings, buttons, hooks, etc. The skirt has a long length, and simple patterns such as plain and check are the mainstream. The basic color of the apron is light blue, and I wore a white apron at weddings and other occasions.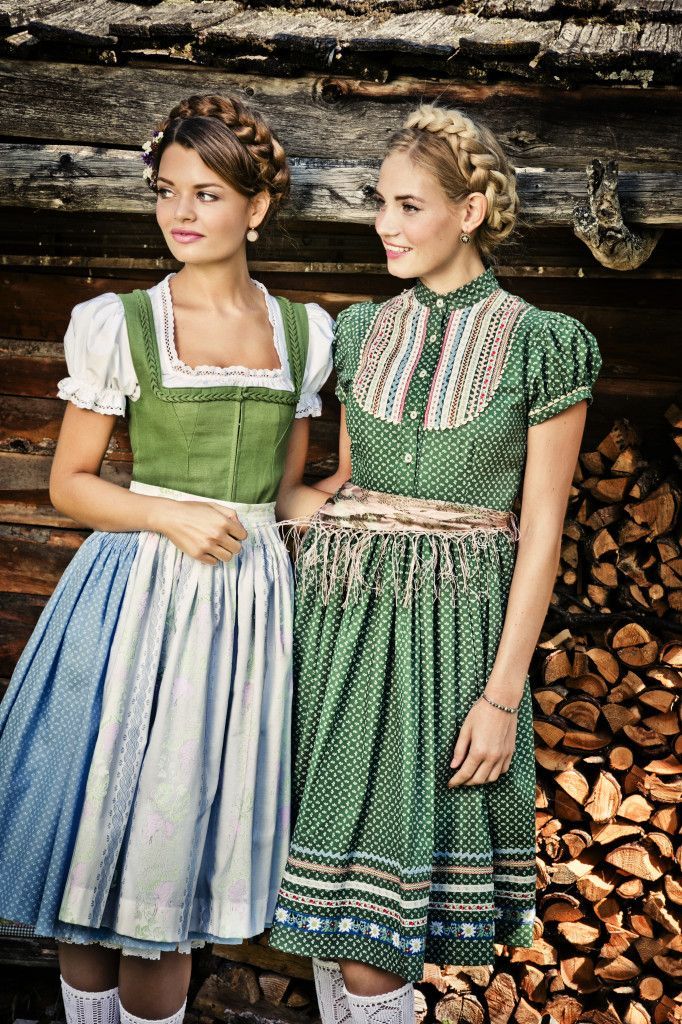 The characteristic of Dirndl is that the fabric of the blouse and skirt gives a solid and profound impression in winter, and a refreshing and light impression in summer.
I borrowed the image from here.
What is the secret of the hidden apron knot?
The waist of Dirndl is squeezed with an apron string, which creates a feminine silhouette. And in the old days, the position of the knot of the apron string was also meaningful. If there is a knot on the right side of the man, that is, on his left side, it means unmarried, and if it is on the left side of the man on the other side, it means married. If there is a knot behind it, it means a widow or a waitress. If there is a knot in the middle of the front, it means a complicated situation where you are not sure if you have a lover. It seems that old men looked at the knot of a woman's apron and decided whether to go for a persuasion. Nowadays it doesn't make much sense, so don't worry about it.
Very popular as a bride costume
Dirndl, which combines femininity and girlishness, is also very popular as a wedding bridal gown. It is widely loved by women because it can be bewitching or classical if you devise each design and materials used. Wearing a pure white veil on a pure white dirndl completes a fluffy and romantic dirndl, making it the perfect bridal gown for Germany, the country of fairy tales.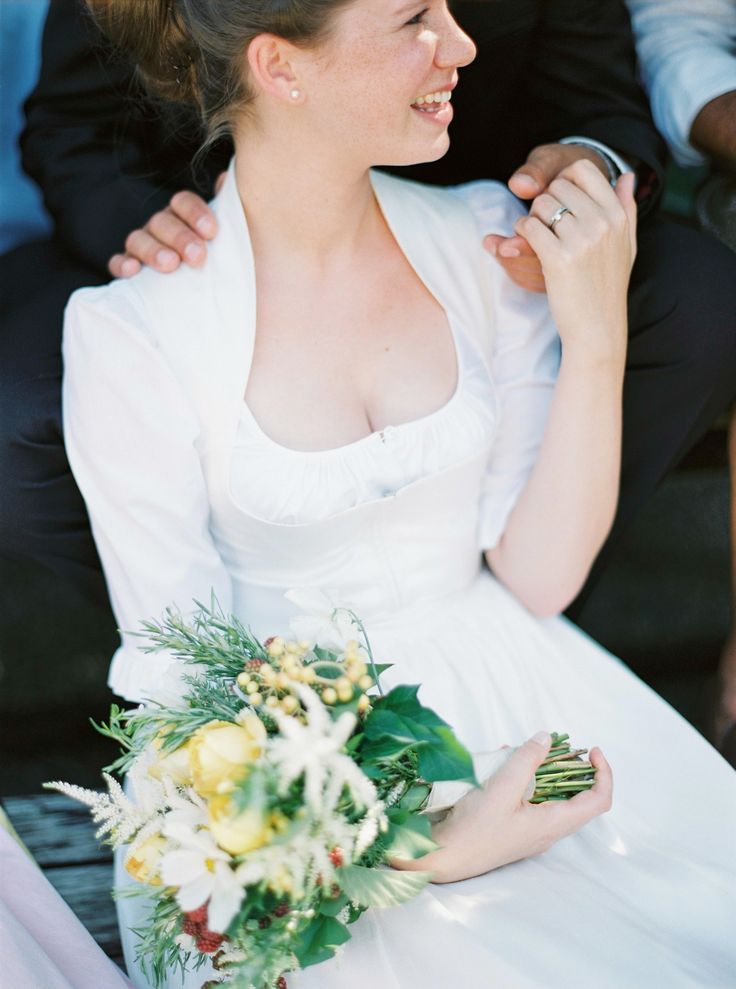 I borrowed the image from here
Lastly
"Dirndl" is a folk costume worn by the main character in the famous Japanese anime "Heidi". Did you have an image? One day, while watching the girl wearing "Dirndl" in the huge Oktoberfest tent, drink her beer to your heart's content and grab a juicy sausage at the stall! ← It's an old man! !! Lol