KNIT MAGAZINE
Recommendations of quick dry materials, for the rainy season

Post date:

July 7, 2020 07:00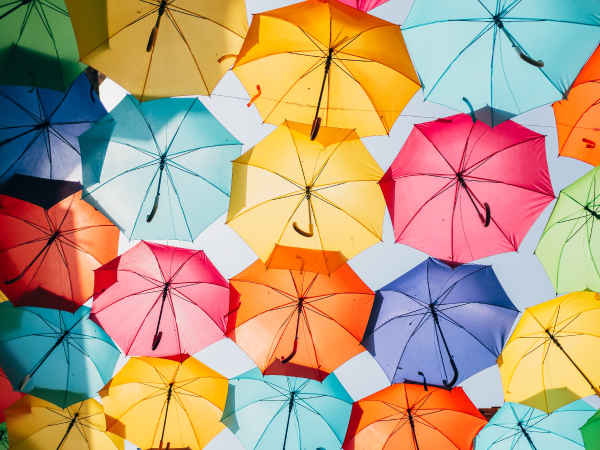 We translate with Google Translate. You can contact us if you have any question.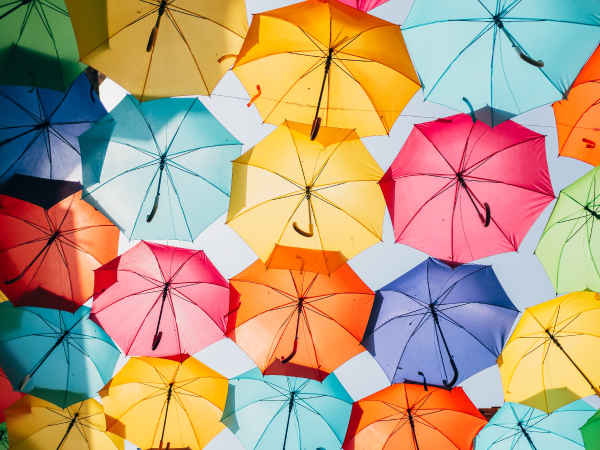 Hello. This is Yagi. The rainy season is a problem because the laundry doesn't dry easily.
Therefore, I would like to introduce a quick-drying material that I actually experienced and was impressed with!
Materials that dry easily and materials that do not dry easily
First of all, do you know which material is the fastest to dry [polyester], [cotton] and [linen]?
cotton
As anyone who is doing the laundry knows, cotton is the slowest to dry.
Cotton has good water absorption, but it doesn't dry quickly, so if you sweat a lot, your body will get cold, so you should choose and wear it. I think it's more comfortable to wear when you have less exercise, such as when you sleep or want to relax than when you are playing sports.
linen
Due to the structure of the fiber, linen is water-absorbent and dries quickly, so you can wash it quickly and wear it lightly when it is damp. It is a material that you want to wear on a hot and humid day.
polyester
Of these, polyester dries the fastest. Since it is difficult for water to get into the fibers of polyester, when water or sweat touches the knitted fabric, it immediately diffuses and evaporates.
It is a material that is easy to use during sports because it is not sticky to the skin and can be worn smoothly and dries quickly.
Materials that dry even faster
Polyester has excellent quick-drying properties, but there are materials that dry even faster than this.
What is "water repellent thread"!
This is not limited to polyester, but has quick-drying properties. Even cotton material dries quickly.
If you ask me, I'm convinced. The water-repellent yarn repels water and prevents water from getting inside the fibers. When it comes to fabrics and knitted fabrics, only the water in the gaps between the threads remains. Since it only waits for that part to evaporate, there is very little water left in the fibers and gaps, and it dries quickly.
In fact, I did an experiment such as washing with water to see the effect of water repellency, but I was surprised that the water repellent product dries even faster!
Introduction of water repellent thread
As I have introduced many times in this blog, the ProofPLUS series has water-repellent yarns. Polyester is available with and without stretch, 100% cotton, and cotton polyester are available in stock colors. In addition, it is possible to try different materials by bespoke, so please contact us.
ProofPLUS series 5 types in stock color
1/60 ProofPLUSα (Alfa) / 1/30 ProofPLUSβ (Beta) (Polyester filament)
1/60 ProofPLUS stretch (polyester stretch)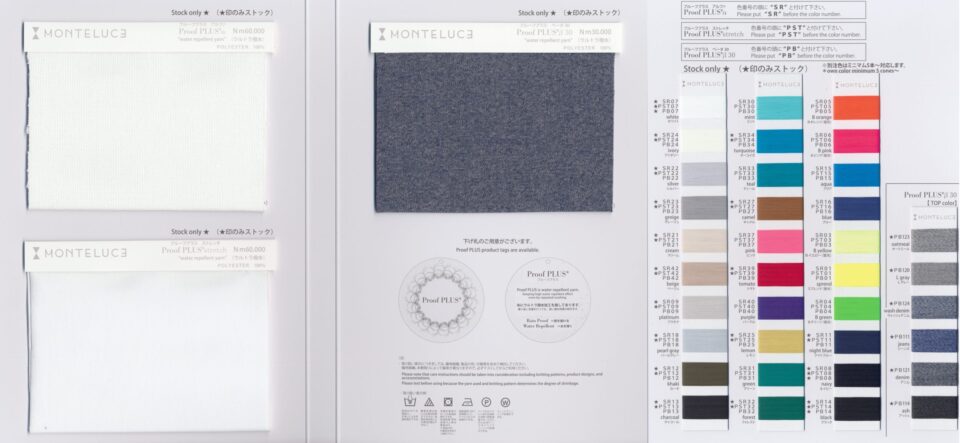 2/68 ProofPLUS organic (100% cotton)
2/58 ProofPLUS clear (cotton polyester)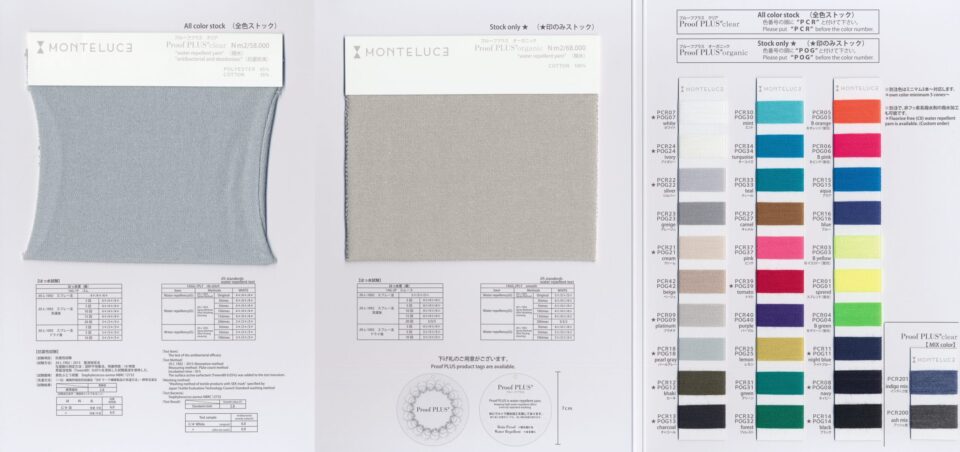 summary
Polyester is the best material for quick-drying, but did you know that water-repellent yarn dries even faster? If it dries quickly, the growth of bacteria will be suppressed, so I think it is good to use it in such a way.
The rainy season will be over soon, but it's nice to be able to wash it comfortably ♪ Please take advantage of it!