KNIT MAGAZINE
Pay attention to the hem of the knit sweater! 4 basic designs + α

Post date:

04/22/2020 07:00
(Update: 06/22/2022 21:31)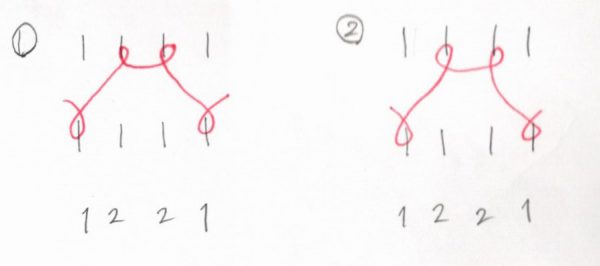 We translate with Google Translate. You can contact us if you have any question.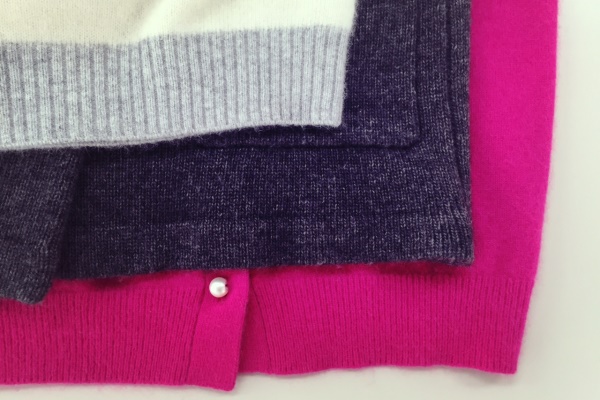 Hell everyone.
Recently, the 2×1 rib that I always instructed casually came up from the factory by mistake.
When I checked, the factory said that there were two types of 2×1 ribs, and the knitted fabric was different from the 2×2 ribs.
Certainly, it looks like the front 2 eyes and the back 1 eye, but the back 1 eye looks like a pig eye, and the front looks like a full needle …
As I will introduce later, there is not much difference in the appearance of 2×1 ribs and 2×2 ribs.
There is no choice but to make a difference in recognition, but there are various ribs on the hem, cuffs, and collar, and I thought it would be no exaggeration to say that it determines the look of the product, so I would like to collect the accessories this time. think!
table of contents
Pay attention to the hem of the knit!
First of all, the basics! 1×1 rib
What is the difference between 2×2 ribs and 2×1 ribs?
If you like straight, bag knitting
Use of knitting
Scalloped picot
summary
Pay attention to the hem of the knit
A knitted sweater that I casually wear.
If you look at the hem and cuffs, there are various designs.
Some are tighter and some are not.
The design of the hem is an important element of knit that also affects the overall silhouette!
So to speak, it's like a powerhouse under the edge!
This time, we will introduce four basic designs and their features.
First of all, the basics! 1×1 rib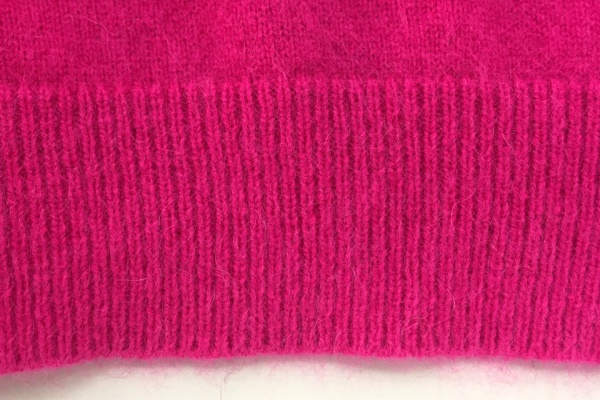 When I think of the hem, I think many people come up with this design.
It has elasticity on the left and right, and makes the hem and cuffs thinner.
Since it stops without slacking, you can create a rounded silhouette unique to knitwear.
Recommended when you want to make an orthodox knit.
In addition, the soft vertical lines are thin, so it seems to suit a neat design!
What is the difference between 2×2 ribs and 2×1 ribs?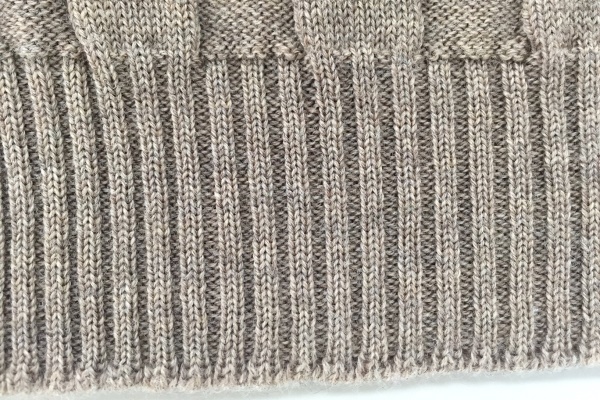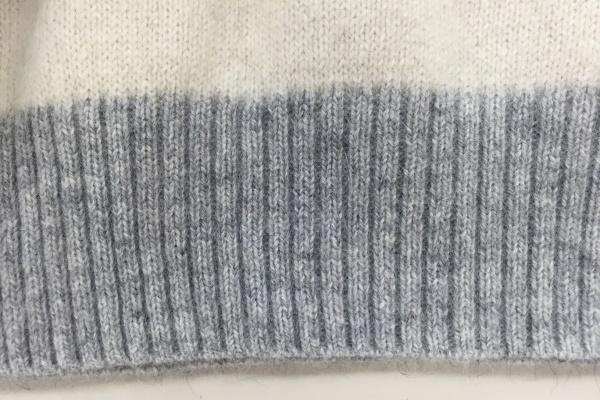 Next, I would like to introduce 2×2 ribs and 2×1 ribs.
The top is 2×2 ribs and the bottom is 2×1 ribs.
As I mentioned at the beginning, it doesn't look much different!
However, if you take a closer look …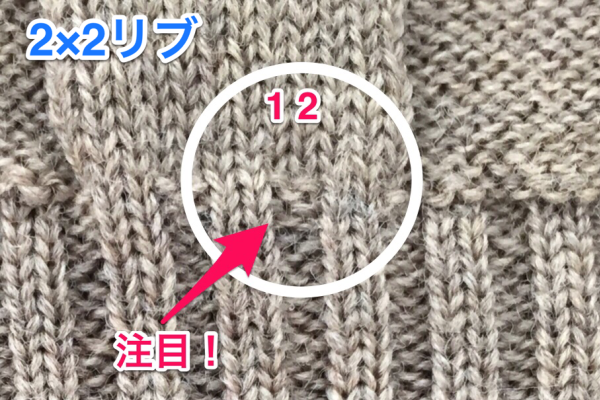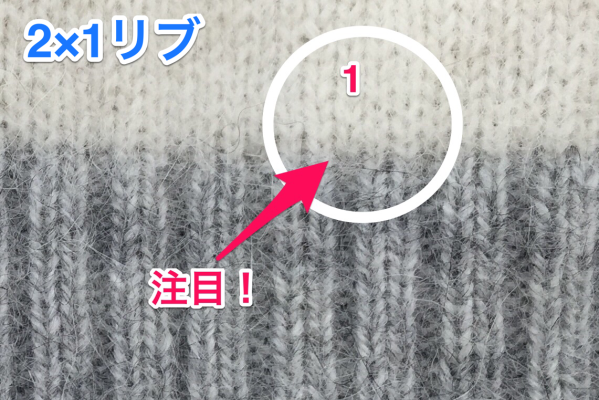 Pay attention to the knitted fabric that follows above!
The number of stitches between the second vertical lines is different! !!
And there are also differences in features.
In fact, 2×2 ribs are said to have weaker left and right expansion and contraction, and 2×1 ribs are said to be stronger.
When I tried to make it 2×2 rib, it didn't tighten as I expected.
I think there are some people who have the experience.
Explaining with a needle stand, since the front bet and the back bet are knitted with a half pitch shift in the 2×1 rib, "1" of the 2×1 rib becomes the needle stand of the total needle, and from the 2×2 rib. However, since the thread crossover is shorter, it is the theory that 2×1 ribs have stronger expansion and contraction.
Was it a little maniac? .. ..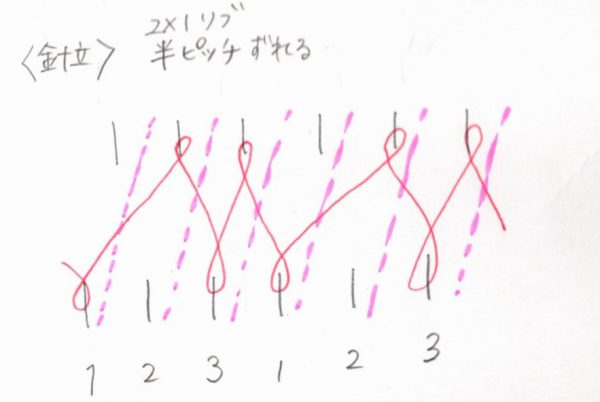 Below is a 2×2 rib. Since the back bet and the front bet are arranged in parallel and repeat ①⇒②, the thread crossover is long.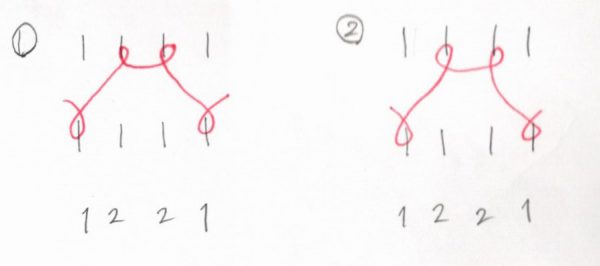 As for both, the vertical ridges are thicker than the 1×1 ribs, so
For thick knits, men's knits, cable patterns, etc., use 2×2 ribs or 2×1 ribs.
You may try it!
If you like straight, tubular plain stitch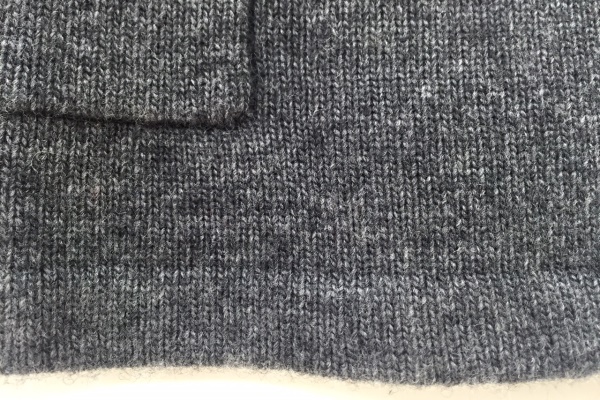 The characteristic of tubular plain stitch is that it does not shrink after all.
When used for a pullover, it gives a silhouette similar to a T-shirt.
When used for a cardigan, it can be made into a silhouette similar to a jacket.
It seems that it can be used not only for tops but also for skirts and hem of pants!
The knit products I made when I was a student were made by knitting jackets and other items into bags.
Use of knitting
There is also a way to use the idea as it is.
Inventing wide ribs
To be precise, it is a method to put 1 × 1 rib in the minimum course and make it look like the wide rib is created as it is.
The minimum length of 1×1 rib is not so noticeable from a distance, so it is effective when you do not want to make the attachment stand out.
In addition, the method of knitting from the bind-off gives a feeling of being sharp and frilled, creating a casual atmosphere. If you want to calm the start, we recommend the method of inserting the minimum course 1 x 1 rib.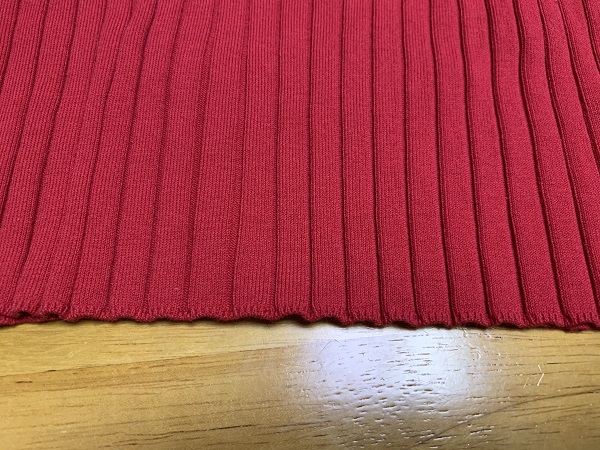 Milano ribs and smooth knitting
Milan ribs and smooth knits are also used for grounds, but knitting can be used.
As a structure, it has little expansion and contraction and has a solid thickness, so it is suitable for jackets.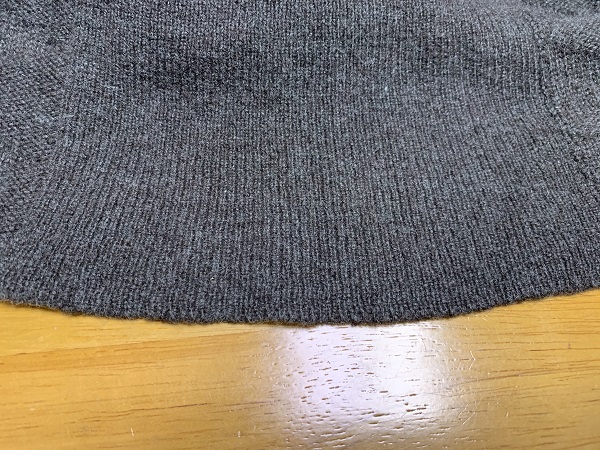 Scalloped picot
Although it is an extra edition, there are also such design items.
It has a cute taste, but since it is unique to knitwear, it seems to have a luxurious feel.
There are things you can do with machine knitting and hand knitting.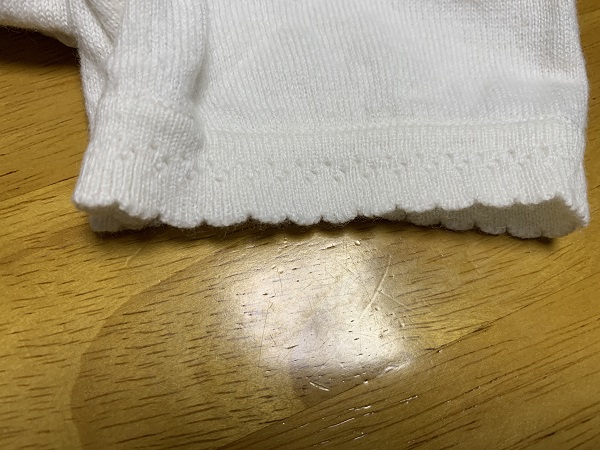 summary
What did you think?
If you make a knit product and think something is different, it may be due to the design of the hem.
I hope you can use it to make the knit you are aiming for.
See you again.