KNIT MAGAZINE
Home Machines / Hand Sides / Automatic Machines Do you know what a "knitting machine" for knit products is?

Post date:

07/21/2016 07:50
(Update: 06/22/2022 21:31)
We translate with Google Translate. You can contact us if you have any question.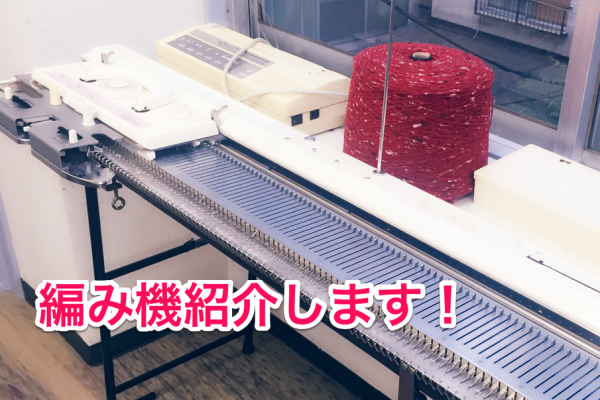 Hello everyone! This is Hattori!
Do you have a weekend schedule? ??
I haven't decided yet, but I want to touch the knit ~
There is an event that is perfect for you! !!
That's right. It's summer market! We sell our yarns and products at a special price!
I will participate too! It's my first summer market since I joined the company, so I'm looking forward to it!
Please come and visit us!
For more information, please see this blog!
Well, this time I would like to write about the knitting machine!
Introducing three knitting machines: home machine, hand side, and automatic machine!
table of contents
What is a knitting machine?
Home machine (home hand knitting machine)
Hand side
Automatic machine (computer controlled knitting machine)
summary
What is a knitting machine?
Even if you say "knitting machine" in one word, there are many kinds.
Circular knitting, flat knitting, warp knitting … Knitting is really deep.
(Warp knitting is not knitted from a single thread, so it may be a special genre.)
Today is the familiar Tenjiku sweater
Introducing a flat knitting machine that can knit!
Weft knitting is a carriage (a device for supplying yarn to needles).
It is a method of knitting a knitted fabric by moving left and right.
… It sounds very difficult to explain in words, so
I would like to know about the knitting machine with pictures!
Home machine (home hand knitting machine)
Home-use machines (household hand-knitting machines) are not originally for industrial use,
You can knit original and highly original knitted fabrics.
Also, it is for home use, so if you attach it to your desk, you can easily knit it.
It looks like this!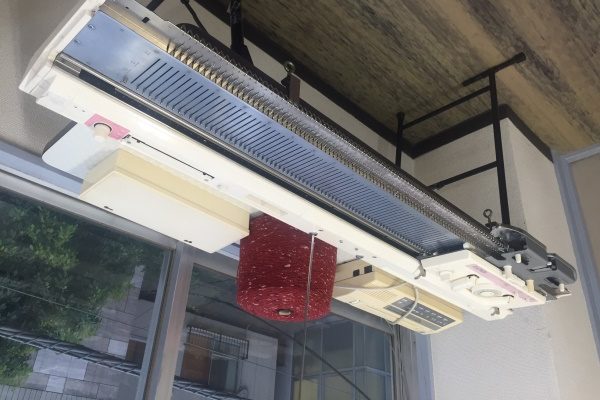 The image below is the carriage of a home-use machine. Hold it in your hand and move it left and right to use it.
Turn the round dial in the middle to adjust the number of times.
It is a work that uses physical strength other than moving the carriage!
In recent years, our exhibition has set up a home-use machine experience corner, so
If you want to experience it, please come and join us!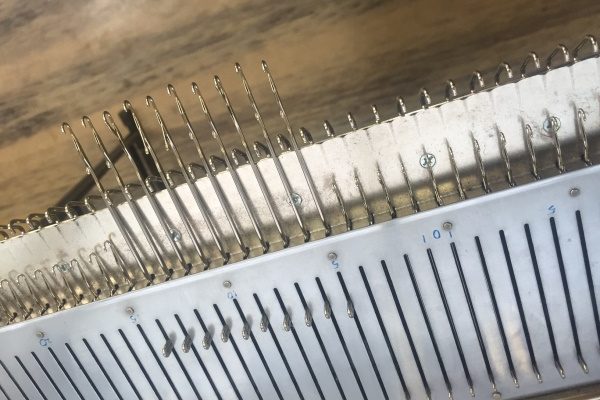 The stitch looks like this.
Since it is only in one direction, there are restrictions on the pattern,
You can even do basic tenjikuya, ribs, tacks, laces (watermarks), redemptions and moldings!
Hand side
Next is the hand side. These are the photos!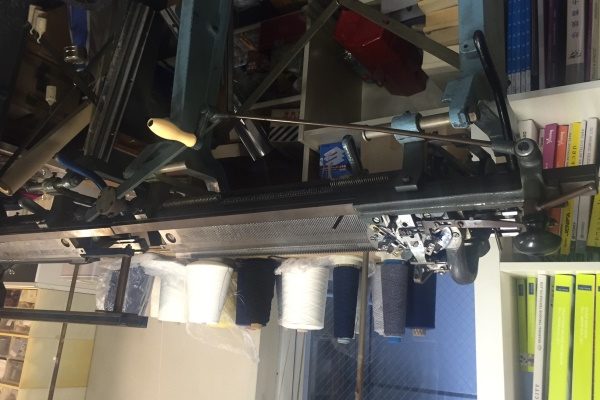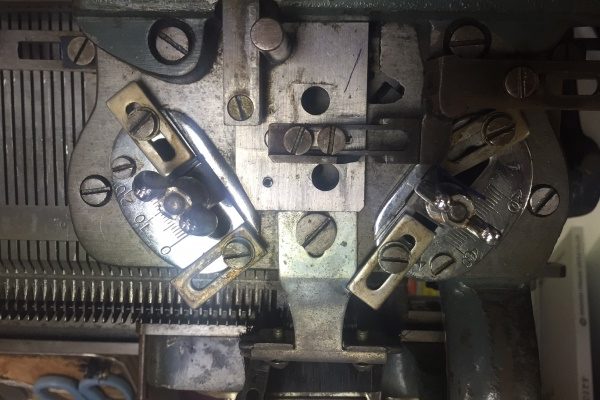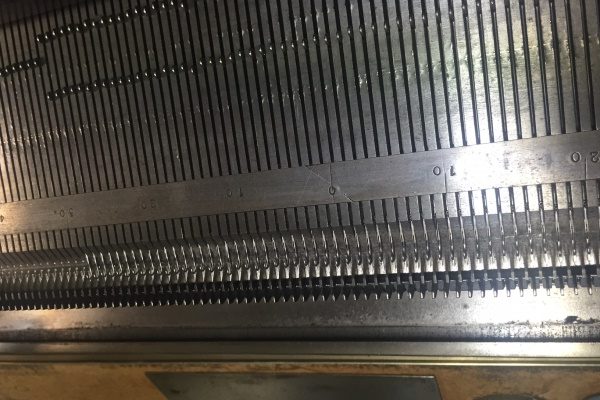 Currently, an automated machine (computer-controlled knitting machine) that will be introduced later.
Is the mainstay of knit production (industrial use),
In overseas production, this hand is still used in active duty.
Compared to household machines, the needles are arranged in an inverted V shape (bet).
This widens the range of knitted fabrics that can be knitted.
For example, Milan Rib, which you often see in the market,
You can't knit it on a home machine, but you can knit it on your side!
The molding knitting that I introduced on Iijima's blog the other day. Of course, you can also knit it on your side!
Click here for Iijima's article!
Industrial machines and all automatic! It's easy to think that
Hand side is done by hand, such as increasing / decreasing eyes, pattern, and color scheme.
When a professional knits, you will be impressed at a ridiculous speed …!
Ibe has uploaded a moving video on our Facebook page, so please have a look!
Automatic machine (computer controlled knitting machine)
The last item I would like to introduce is an automated machine (computer-controlled knitting machine)!
It is a knitting machine that is very active both in Japan and overseas. SHIMASEIKI (Shima Seiki Seisakusho) and his stall company are famous.
Knitting machines made by Japanese companies are active all over the world.
I'm always very proud of it.
The non-sewn knit WHOLEGARMENT is a technology developed by Shima Seiki.
There is also a knitting machine for WHOLEGARMENT.
Well, this automatic machine looks like this.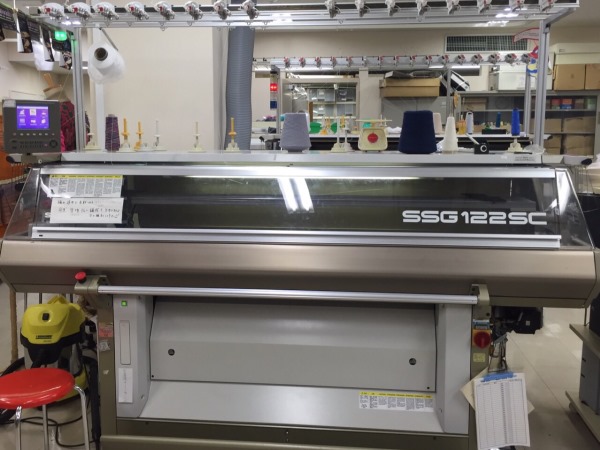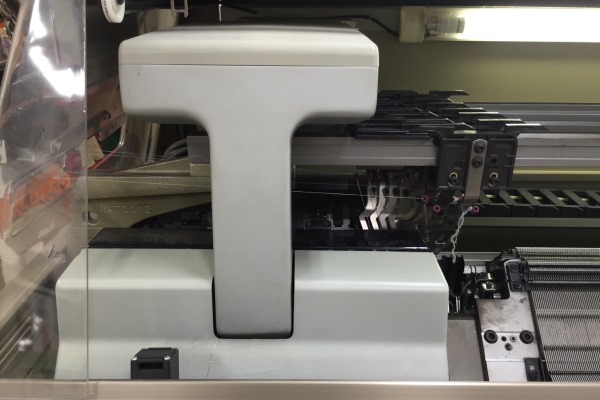 The carriage of the automatic machine looks like this. Can you see a lot of threaded carriers lined up?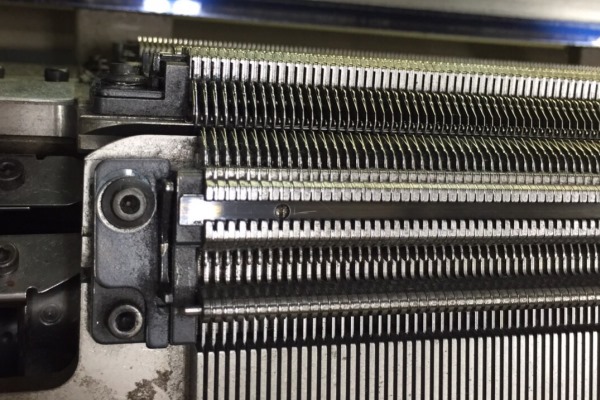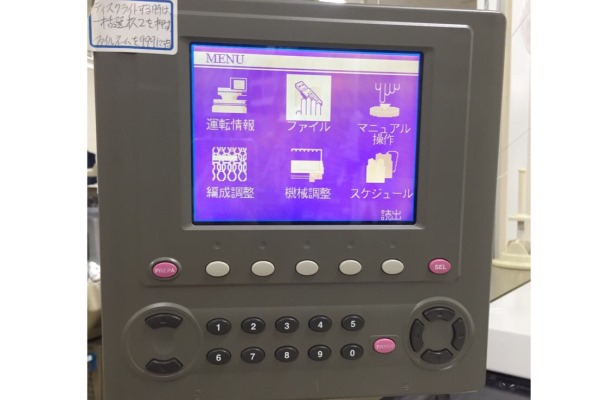 The appearance of the needle part is similar to the side of the hand.
However, when knitting, people do not do anything manually.
Import programming data into the built-in controller
On the operation panel (pictured at the bottom), make fine adjustments such as the number of times and speed, and the machine knits! It is a flow.
Since the automatic machine knits fast, it is necessary to adjust the tension of the thread properly!
(As an aside, the operation panel of the knitting machine I have used was a button operation,
The latest knitting machine seems to have a touch panel! !! I definitely want to touch it! )
The technique of programming this data and fine-tuning knitting is just a craftsmanship.
You can knit only if you have the experience, sense, and knowledge of Nitter!
I can't sleep with my feet on Nitter!
(When I was a student, I knit a double jacquard with an automatic machine, but it just caused thread breakage.
I remember knitting while watching for a long time and wishing. I finally knit it
Because the teacher made fine adjustments to the knitting! )
summary
What did you think?
The knitting machine looks like this
I hope it's a new discovery for everyone!
See you next time! Bear up under the hot weather, and let's do our best!!